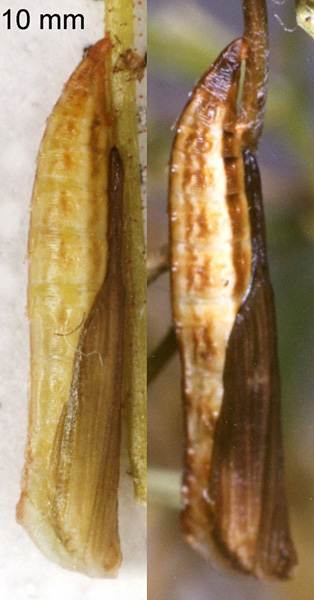 45.019 BF1506
Saxifrage Plume Stenoptilia millieridactyla
(Bruand, 1861)
---
Wingspan 17-20 mm.
This species is locally common in gardens on both sides of the Pennines, in southern Scotland and parts of Ireland. Larvae have been found on wild Mossy saxifrage (Saxifraga hypnoides) in the Burren (Co. Clare, Ireland) and in one Derbyshire dale, but other larval records are from cultivars of S. hypnoides in gardens.
Garden records may originate from larvae introduced with bought plants, but the moth is able to spread between gardens, and has mainly been found in areas not very distant from wild populations of S. hypnoides.
The adults fly in June and July, with a small second generation in late August and early September in some years. They often have a bronzy colouring along the dorsum (trailing edge) of the hind wing.
From late August the young larvae unobtrusively mine leaves and stems of the foodplant. Leaf mines are largest and most easily detected in the following April, but larvae are most obvious in May and early June when they feed externally on the leaves and flowers of Mossy saxifrage. The red stripes on 5mm larvae usually fade as they grow.
Pupae in June and July, and sometimes August, are attached to the plant.