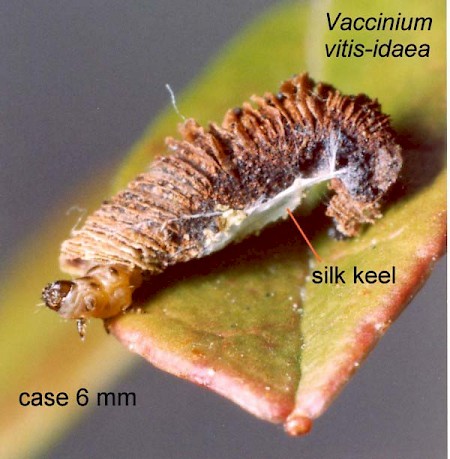 37.024 BF506
Coleophora vitisella
Gregson, 1856
---
Wingspan 10-13 mm.

The adult resembles many others in the genus, so examination of the genitalia is advised for identification of adults. The fully developed larval case, 6 mm long, on cowberry (Vaccinium vitis-idaea), in April and May of its second year of life, is easily identified by its structure of about forty discs of leaf arranged like a pile of coins, its walking stick shape and the ventral keel of white silk. Each larva makes a large number of small fleck mines, which can be recognised by the relatively large hole where a disc of leaf has been excised for the case.

The species occurs on the more sheltered parts of moors and Scots pine woodland where its foodplant occurs, in the Highlands of Scotland, the Pennine Hills and the Clwyd Hills.

The adult flies from late May to early July.
Much of the above is based on MBGBI 3.