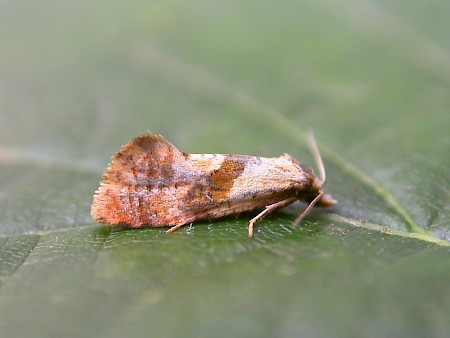 49.130 BF958
Dingy Roseate Conch Cochylidia subroseana
(Haworth, 1811)
---
Wingspan 11–15 mm.
Occurring in parts of southern England, this small moth lives out its life cycle in open woodland wherever goldenrod grows. It gets its name from the blend of pink and dingy brown cilia, which fringe the inner margins of its forewings.
A series of rusty-brown markings break up the otherwise creamy hue of each forewing's surface. Most noticeable is the rust-coloured band that runs more or less vertically down the centre of each wing. This band is narrower than that of the Dingy Roseate Conch's close relative, C. rupicola. The hindwings of the Dingy Roseate Conch are pale brown.
The story of this species begins in the flowerheads of goldenrod. Here, in late summer, the new larvae begin to hatch from singly laid eggs. The bright mustard coloration of their bodies helps them blend in with the plant's dense clusters of yellow florets. From August, they feed on the goldenrod, slowing the plant's growth. By early October, they make for the ground, overwintering cocoons under the shelter of leaf litter.
Adults are in flight from June to early August.
Description: Michela Sisti