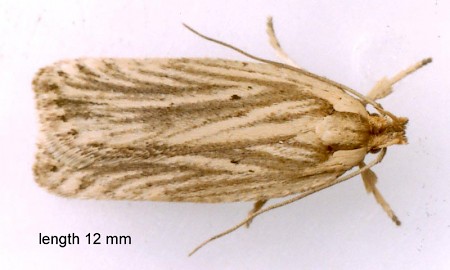 32.029 BF705
Agonopterix umbellana
(Fabricius, 1794)
---
Wingspan c. 21 mm.
Agonopterix umbellana is well distributed throughout the British Isles, and can be locally common among gorse in coastal localities. The adult stage lasts from August to April. It hibernates over winter and can reappear in the early spring.
The larvae feed from late May to early August on gorse (Ulex) and greenweed (Genista) from obvious silk tubes as thick as a pencil.
Until recently it was known by the scientific name of ulicetella.
This species can resemble the more striated forms of A. nervosa, but has a more rounded termen, with a row of black dots and two brownish lines in the cilia. It also has a dark central line on the thorax.
---
Larva: (description Ian F. Smith):

Foodplant: Late May to early August on Ulex europaeus and, in Cornwall, Genista pilosa in a well formed and obvious silk tube the thickness of a pencil.
Length: Final instar, 20 mm, described. (Variations in brackets.)
Head: Black. Whitish transverse band on mouthparts.
Prothorax (T1): Integument on sides and band in front of prothoracic plate; pinkish white (17 mm; yellowish white. 12 mm and smaller; brownish.) Prothoracic shield black, divided by fine dull green medial line.
Thoracic legs: Femur and tibia black. Tarsus blackish brown. Joints whitish.
Body: Dull olive green. (12 mm and smaller; brown.)
Spiracles: Black peritreme.
Pinacula: Black. Largest on A9, dorsally.
Setae: Black base, rapidly fading through brown to colourless distally.
Anal segment: No anal comb. Integument paler than rest of body. Anal plate variable, 20 mm; shiny olive brown or shiny olive green with black setal spots and clouded greyish black mottling. Outlined finely with grey. (17 mm; shiny olive brown with brown setal spots and almost imperceptible brown mottling.) (12 mm and smaller: shiny pitchy black.)
Prolegs: Base coloured as abdomen, with three conjoined black pinacula forming a black transverse line on anterior. Planta paler, translucent, with a strong black collar basally. Crochets reddish brown.
Anal proleg: Integument paler than rest of body. Encircled by black or blackish collar.

Similar species: Agonopterix nervosa larvae are earlier; May and June. In June, when the two species overlap, A. nervosa is usually larger (about 15 mm), has some suggestion, at least, of lines and is markedly paler on the sides below the spiracles in both its green and brown forms.
Brachmia blandella has dark brown head and prothoracic shield, and a pale brown body with a pinkish tint. It is usually in pods.